Impossible Pie
Impossible pie? No, it is very definitely possible and probably the simplest dessert I ever made, just mix it all together, pop it in the oven and presto! Yummy crispy coconut macaroon top, a soft pie base and custardy centre.
This recipe is one I used to make regularly before Stuart became diabetic at which time we tried to reduce the amount of sugar and carbs we consumed on a daily basis so this one dropped off my "to cook" list. However, a few weeks ago we had dinner with friends we had not seen for years and were served this pie, which Angie had cooked from a recipe I gave to her in the 1990's. I was originally given the recipe by an American friend we met in Liberia in the late 1970's. Over the last weekend discussing food with Katherine and Helen I said that I would look it out and let them have the recipe which is what started this whole recipe blog.
Picture one shows the ingredients well mixed and the other 3 show the finished results. When it comes out of the oven it is light and fluffy and the coconut is very crispy but as it cools the custard settles as you see in the sliced pie.
 Ingredients
4 Eggs – large
0.5 cup Butter, melted
2 cup Milk
1 cup Sugar
0.5 cup Plain White Flour
0.25 tsp Salt
0.5 tsp Baking Powder
1 tsp Vanilla Extract (or ground vanilla seeds)
1 cup unsweetened shredded coconut
Method
Set oven to 350F/180C.
Grease a 9 to 10 inch pie plate or flan dish.
Put all ingredients into mixing bowl and mix thoroughly.
Place in the centre of the oven and bake for 45 minutes or until top is golden brown.
Nutrition (per slice when cut into 8 slices)
Carbs 38g
Calories 374
Fat 22g
Sodium 261mg
Protein 8.3g
Notes
The original recipe I used to make had 1.5 cups of sugar but this was extremely sweet and still is with just the one cup, in fact I will try again reducing the sugar even more.
Variations
I have ideas to make several variations of this recipe. My first will be to omit the flour, reduce the sugar and make individual coconut macaroon topped desserts in brulee style dishes. More on this in future but first I need appropriate dishes!
Update by Katherine
I decided to try out this recipe to celebrate Pi day yesterday and after I finished mixing up the ingredients it looked rather, well, impossible that this liquidy gloop was going to turn into that pretty pie!  So I took a quick video to show the consistency so that you could all trust the recipe 🙂
I wouldn't recommend trying to make this in a pie dish with a removable bottom (I swiftly switched dishes when I saw the consistency!)  However, it really did turn into a delicious pie! 🙂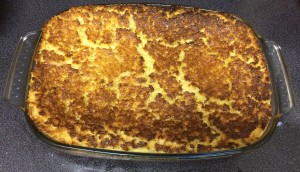 I would recommend serving it whilst still warm, but giving it 15 minutes or so to cool once it comes out the oven – our second helpings were much easier to dish up than the first, rather too eager, slice 😉