Banana nut muffins
Makes 12 muffins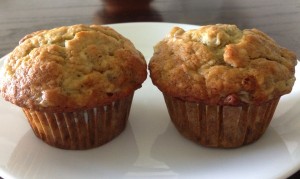 These are quick and easy to make and taste delicious for breakfast or morning coffee. I tend to switch around ingredients depending on what I have in the cupboard but the basic recipe is my favorite. A friend asked me for the recipe so I decided to add it to our blog for posterity, then it can be shared by one and all.
Ingredients:
3 or 4 large (7 1/2 to 8 inches long) bananas
1/2 cup sugar
1/3 cup butter, melted
1 large egg – lightly beaten
1 1/2 cups all purpose white flour
0.25 tsp salt
1 tsp baking powder
1 tsp baking soda (bicarbonate of soda)
1/2 cup chopped walnuts or pecans (or chocolate chips, cranberries etc. if you like)
Method:
Preheat oven to 350F/180C
Mash bananas with sugar
Add melted butter and egg
In a separate bowl sieve flour, salt, baking powder and baking soda
Lightly stir the nuts into the dry ingredients so they are lightly coated
Mix all together lightly
If you only use 3 bananas you will need to add a little milk or natural yogurt to make the mixture a moist drop consistency.
Spoon into greased/lined muffin pan
Bake for 25 minutes until nicely browned on top
Remove onto cooling rack for a few minutes to rest before eating (I mean the muffins! You can go rest too if you wish but I don't recommend the cooling rack!)
Nutrition:
Carbs 28g
Calories 200
Fat 9.3g
Sodium 236mg
Protein 3g
I made these early this morning and I was still half asleep and forgot to photograph the stages or even the muffins until there were just the two left! They really are simple to make so have a go and then post your photos.
11th June 2015 – Update
Today I made the muffins but had run out of butter. I substituted coconut oil and the flavour was really delicious. I will be using coconut oil to make these in future!