Baked Hooters Style Buffalo Chicken Wings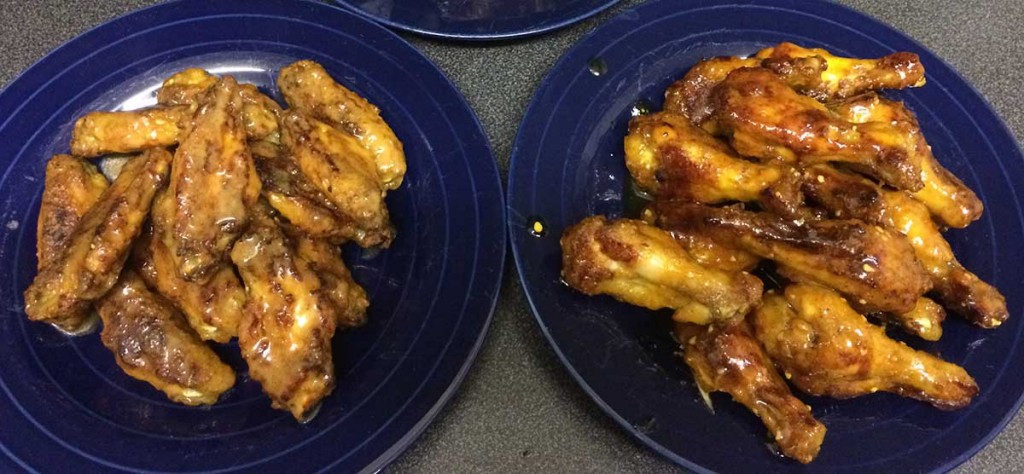 Chris and I are a little addicted to Hooters wings when we're in Vegas.  I wanted to make some at home to soothe our cravings whilst in England, and discovered that all the recipes I could find involved deep frying.  I wanted something a little healthier and combined a few recipes and tweaked until I was happy with the results

I separate the wings and skin them, then dunk them in milk, coat them in my special breading mix, and bake them.  Once they're cooked through and all crispy on the outside I drench them in hot sauce ready to serve with some celery and ranch dressing

Ingredients for 4
2kg chicken wings (about 20 complete wings – 5 each)
1 cup plain flour
1 tsp paprika
1 tsp garlic powder
1 tsp cayenne pepper
1 tsp black pepper
1/2 tsp salt
4 tbsp grated parmesan cheese
1/2 cup milk
A little oil
1/2 cup butter
1/2 cup hot sauce
Method
Preheat your oven to 200C/400F.
First you need to mix up the ingredients for the breading.  Place the flour, paprika, garlic powder, cayenne pepper, black pepper, salt and parmesan cheese into a large flat Tupperware, then put the lid on and shake up the box until it's all evenly mixed.
Pour the milk into a flat bowl and line a couple of baking trays with foil.  Spread a little oil on the foil to encourage the wings not to stick!  Then organise your work surface like this… Chicken wings, chopping board, bowl of milk, box of breading, baking tray:

Chopping up and skinning the wings is next and I've included a little video to show the way I do this.  We only want to eat the 2 main parts of the wing, the tips are good to feed cats if you have any!  Removing the skin is actually pretty easy once you get the hang of the technique.
Next you want to coat the wing segments.  First dunk them in the milk, and then roll them in the breading mix, then place them on the baking tray.
Your fingers will become an icky sticky mess during this process!  Here are the wings all coated and ready to go in the oven.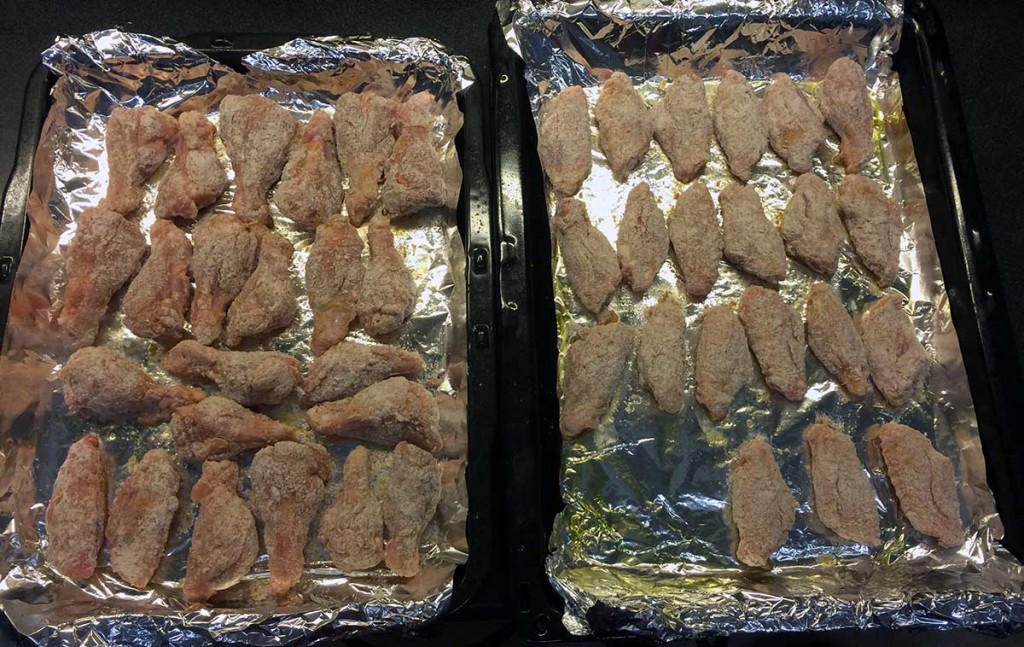 Now pop the wings in the hot oven for 20 minutes.  Then give them all a turn over, and put them back in for 15 – 20 minutes.
While they cook you can mix up the hot sauce.  Use any hot sauce you like, Frank's will make them taste like Hooters wings, but we also love a sweet ginger, chilli and garlic sauce  You want to mix it up at about a 50/50 ratio with melted butter.  The more butter you add, the less hot the sauce, so you can do this to taste depending upon your tastes!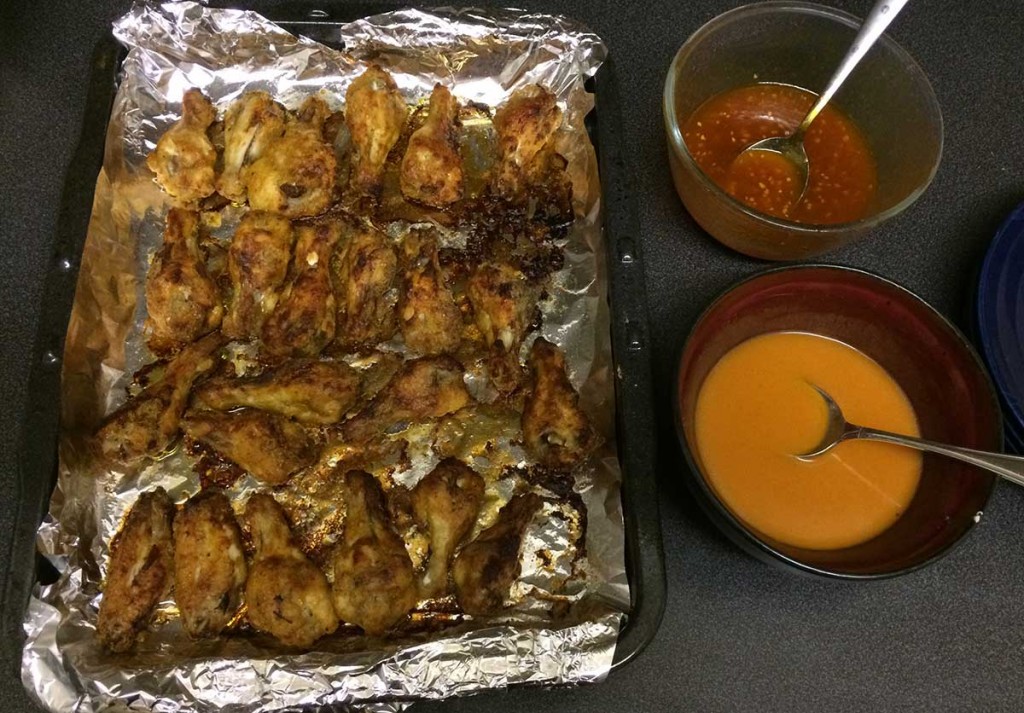 Once the wings are cooked take them off the tray and dunk them in your bowl of hot sauce – make sure the wings are completely covered for maximum taste!
Serve whilst hot with celery and ranch dressing! Yum!
Variations
Changing the hot sauce can make this recipe taste dramatically different!  Use your favourite or try out a new one!

 Taste the hot sauce first as some may not need much butter, others may need a lot!  Sometimes I add some chopped garlic, black pepper, or other spices to the butter & hot sauce mix for a change too